Helping youth in foster care means more than just giving them a loving, caring home. We believe firmly in providing a wide range of key mental health services to the foster youth we work with. Considering that in comparison to veterans, former foster youth are twice as likely to suffer from Post-Traumatic Stress Disorder, serving the mental health needs of foster youth is highly critical. We aim to provide for the mental, physical and emotional needs of all foster youth and their families that we work with here at AFS.
All children in foster care and other youth served by Alternative Family Services are learning how to cope with the events that precipitated their coming into foster care. Every foster child endures a different level of personal grief and trauma with the loss caused by the separation from their family. The most prevalent mental health conditions treated by AFS mental health practitioners include Post Traumatic Stress Disorder (PTSD), Abuse related trauma, disruptive disorders such as Attention Deficit Disorder, Depression, Anxiety, Substance abuse and Disrupted family relationships, among others.
AFS also provides Therapeutic Visitation Services to provide counseling and support for foster youths that have entered foster care and their biological parents. Go to our Therapeutic Visitation page for more information.
In partnership with Alameda County, AFS runs The Gathering Place, which provides additional mental health services and support. Head to our pages for The Gathering Place – Oakland and The Gathering Place – Pleasanton for more information about the program, along with details on the services and support provided at each location. For information about county-based programs outside of Alameda County, feel free to get in touch with us or with your state or local department of health.
Community-Based Mental Health Services
AFS provides family-centered and community-based services designed to meet the mental health needs of children placed in foster care and families involved with foster care, adoptions and juvenile probation. AFS collaborates with biological and foster parents, child welfare workers, foster care support staff, schools and community providers to ensure quality health care services when addressing the mental health needs of foster children, youth and families.
AFS uses several proprietary mental health treatment and intervention models including:
Trauma Focused Cognitive Behavioral Therapy, which is specifically designed to help individuals suffering from PTSD or other significant traumas.
Motivational Interviewing helps individuals fight antipathy and instigate self-directed behavioral changes.
AFS's Positive Parenting Program (Triple P) helps both biological and foster parents understand mental health needs in youth and provide thoughtful, relevant support.
AFS provides informed community-based mental health services in many different instances.
Reunification: AFS works within a family's environment to rebuild family relationships and work towards reunification.
Adoptions: AFS supports families both before and after adoption, helping to stabilize and gain insight into the emotional issues confronting them.
Placement Stabilization: AFS works collaboratively with children, youths and foster families to reduce tension, realign expectations and increase understanding and empathy within the foster family. This helps to create the space for important permanency work.
Emancipation: Our intensive one-to-one support is designed to reach difficult to engage children and adolescents, striving to increase their access to community resources and build the extended family supports necessary for a stable life.
Individual and Family Therapy: AFS therapists provide therapy for a wide range of issues to foster youth and families as part of the overall treatment plan, in order to achieve more positive outcomes in reunifications and foster care placements.
Training and Support
Throughout the year, AFS directly hosts and partners with organizations such as the Chabot-Las Positas Community College District to offer a variety of trainings and support programs, including some specifically relating to mental health. Head to our training page for more information and to sign up for an upcoming class.
How to Help
Interested in helping support the foster youth mental health services and programs offered by AFS? There are many ways to give back.
Consider giving a small donation. All money is tax deductible, and 100 percent of donations go directly towards helping foster youth, their families and their communities.
Have relevant experience providing mental health support and services? Consider applying to work with AFS. Header to the AFS careers page to see about our current openings. You can put your experience to work helping foster youth achieve more equitable mental health support!
Note: The foster care mental health services provided by AFS are solely for the Northern California foster youth and families we work with and support. For more information about how to access mental health services through AFS, feel free to reach out to us by phone at 800-300-1022 or via email at info@afs4kids.org.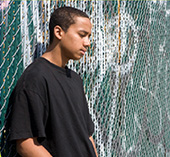 The most prevalent mental health conditions treated by AFS mental health practitioners include:
Post Traumatic Stress Disorder (PTSD)
Abuse related trauma
Disruptive disorders (e.g. Attention Deficit Disorder)
Depression
Anxiety
Substance abuse
Disrupted family relationships