Community Based Mental Health Services
Mental Health Services
Community Based Mental Health Services
AFS provides family centered and community based services designed to meet the mental health needs of children and families involved with foster care, adoptions, and juvenile probation. AFS collaborates with biological and foster parents, child welfare workers, foster care support staff, schools and community providers to ensure quality care when addressing the mental health needs of foster children, youth and families.
ACTIVITIES SUPPORTED
Reunification: AFS works within a family's environment to rebuild family relationships and work towards reunification.
Adoptions: AFS supports families both before and after adoption, helping to stabilize and gain insight into the emotional issues confronting them.
Placement Stabilization: AFS works collaboratively with children, youths and foster parents to reduce tension, realign expectations, and increase understanding and empathy within the foster family. This helps to create the space for important permanency work.
Emancipation: Our intensive one-to-one support is designed to reach difficult to engage teens, striving to increase their access to community resources and build the extended family supports necessary for a stable life.
Individual and Family Therapy: AFS therapists provide therapy for a wide range of issues to foster youth and families as part of the overall treatment plan.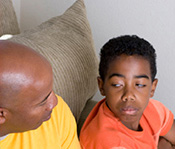 EVIDENCE BASED INTERVENTION MODELS
AFS uses several proprietary intervention models including:
Trauma Focused Cognitive Behavioral Therapy
Motivational Interviewing
Positive Parenting Program (Triple P)