Intensive Treatment Foster Care (ITFC)
ITFC is designed to maintain children and youth in family settings in the community who otherwise may have been placed into institutional settings. ITFC offers intensified services for foster youth who need extra structure and support not available in other foster settings. Additional support is given to foster families to help care for ITFC foster youth.
Training & Support for ITFC Foster Families
Supports and services in this program are highly individualized to target the specific needs of foster children and foster parents:
Special Training for ITFC foster parents
Additional respite for foster parents
Support Counselor provides scheduled in-home support to foster youth
Intensive in-home case management provided to foster families by social workers
Access to mental health professionals and programs
Increased stipend – ITFC foster parents receive a higher monthly reimbursement
Support Services include family reunification, mentoring, targeted life skills training, liaison with schools, placement stabilization, monthly treatment team meetings and 24/7 crisis response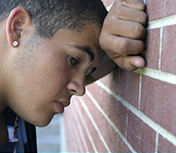 ITFC Helps a Child Reach His or Her Full Potential
Foster children who have special emotional, social and developmental needs are at greater risk of violent behavior, incarceration, hospitalization, or placement in different forms of group and residential treatment. When given the opportunity to participate in Intensive Treatment Foster Care, the individual attention can positively impact that child's choices and increase his or her chances of reaching their full potential in life.
This video supplied by our respected colleagues at the Kennedy Krieger Institute in Baltimore will be helpful to anyone wanting to understand what fostering challenging children and youth is all about. This video is used with permission of Kennedy Krieger Institute, Baltimore, MD. The individuals who appear were participants in Kennedy Krieger's Therapeutic Foster Care program at the time of filming. The video is six minutes, forty-nine seconds long.