AFS offers three foster care programs which are built upon what AFS calls the Extended Family Model. The model develops a rich network of supports for foster families and their foster children connecting every AFS family through an extended family network to the community at large.
By supporting foster parents and building social supports, the Extended Family Model maximizes a child's opportunity to develop healthy relationships with adults and peers within a family and the community.
AFS offers all foster care services in English and Spanish. Many AFS foster families are bilingual or speak only Spanish in the home. We refer to all of our Spanish language foster care services as Casas con Corazón, or Homes with Heart.
AFS foster care programs and services:
---
A report of the Surgeon General showed youth in therapeutic foster care made significant improvements in: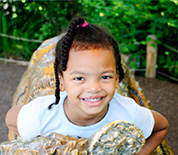 Adjustment
Self-esteem
Sense of identity
Aggressive behavior
Gains were sustained for some time after leaving the therapeutic foster home